technology
Patented Technology
The core of our company's VA Reduction technology is Nanofiltration (NF). NF is a pressure driven membrane process that allows VA, in the form of acetic acid as well as Ethyl Acetate (EA), to pass through while holding back desirable acids. Unlike Reverse Osmosis (RO) that flat out rejects everything, NF is selective in its removal characteristics. This allows the process to operate at pressures 75% lower than RO. This lower operating pressure and selective removal of ions translates into a more efficient and gentle process overall.
The combination of NF with acid adsorption constitutes our VA/EA removal process and is protected by US patent number 7651616.
Why Reduce VA?
There are a number of reasons for reducing VA. These include helping restart stuck ferments to improving taste and aroma by dialing in the final VA numbers.  Reducing VA should not be viewed as a remediation tool only. It can help immensely with quality and many wines that have had VA reduced go on to win awards.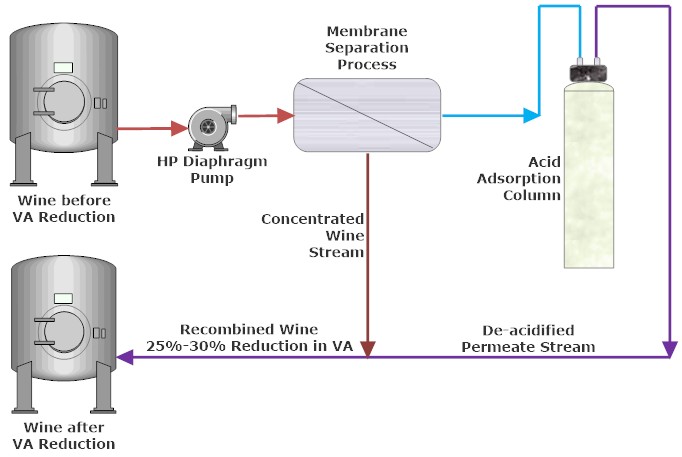 service
equipment sales
equipment rental